My acclaimed 'Happy Hour Series" paintings and embellished giclees will be going on sale over the next few weeks.
The Happy Hour series is where you will find Pamela's landscapes, seascapes and cities when the sun is setting. All of these paintings are created with traditional and metallic paints in the palette of a sunset. Many collectors describe her Happy Hour Series as having a hypnotic effect because as the day transitions into night, the paintings change. They go from light, airy golds into deep, rich coppers. Happy Hour is when you begin to feel at peace, kick your feet up, sip wine and enjoy the beauty of a transition into night. We hope her paintings will make you think fondly of your favorite sunset adventure.
Happy Hour Embellished Giclee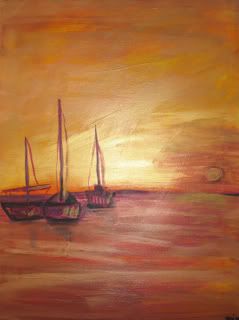 Beautiful Sailboats anchored at sunset make this one a popular choice. It is also one of the few Limited Editions (1000), I am doing.
Happy Hour Maryland Ave Embellished Giclee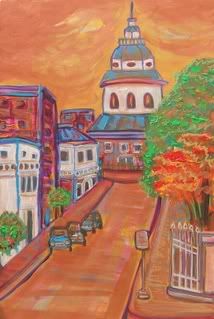 Fun cityscape of Maryland Ave. in Annapolis MD. Has beautiful trees and architectural qualities!
Happy Hour Low Tide ORIGINAL PAINTING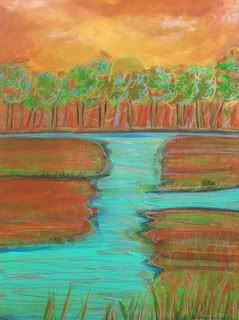 The simmering bright crystal blue waters and playful trees make this one a favorite painting of mine. It's also very large 30 x 40, so it commands attention.
Thanks For Looking!
Pam