We are rolling back prices as our "economic stimulus special" to our prices back in 2006. WOW!! My Happy Hour Series has actually one two awards. The first was on Ebay Art in Summer 2006 and the second was the 2007 Landscape Calendar Awards at Artwanted. So here's our specials for this lovely Friday night:)
Happy Hour Prince Fredrick Original Painting
The picture doesn't do this one justice as the sky is blazing with coppers, blues, pinks and violet.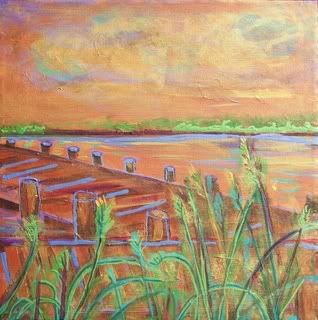 Fall Happy Hour Embellished Giclee (Original Sold!)
This one is a very nice landscape or side street painting with lots of interesting colors, beautiful trees and playfully I made the street violet to give it a joyful, serene feeling.