This painting is based on the volvo boats when the visited Baltimore. Its an urban fun painting for all fans of sailing or boat racing. On sale till the end of the month for $150.00 and presented with a mat and frame.
Volvo Boats Orignal Painting
or you may purchase a poster or fine art poster at
Cityscapes: Urban Jungle Gifts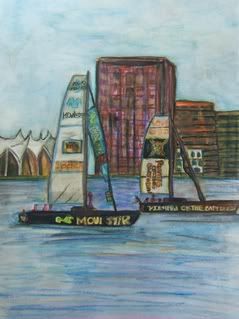 From the Urban Jungle Collection: Living in a city can be an intense, spontaneous experience. They pulse with light and activity. Cities are industrious and busy by day. At night, their mystery and lushness come alive. A city can stimulation your passion and all of your senses. In the urban jungle series cityscapes, Pam captures the electric colors, the stunning skylines and the interesting architecture that can be found in a cityscape.
These paintings have wonderful pastel and jewel hues. You'll get a hint of whimsy, however, the artist added stark black lines and shimmering metallic acrylic paints to give them a modern, edgy feel. Pam's Urban Jungle Series paintings have been described as "Modern impressionism with a twist", and as "Colorful, Bold, and Joyful Masterpieces!" Her simple style is almost childlike but in reality, her paintings are carefully planned to be different from tradition impressionist paintings. The paintings in this series are done in both acrylics on canvas and watercolor/mixed-media on heavy watercolor paper. All of her paintings are ready to hang. Pamela uses quality framing or gallery wrapped canvases with the sides painted.
make custom gifts
at
Zazzle